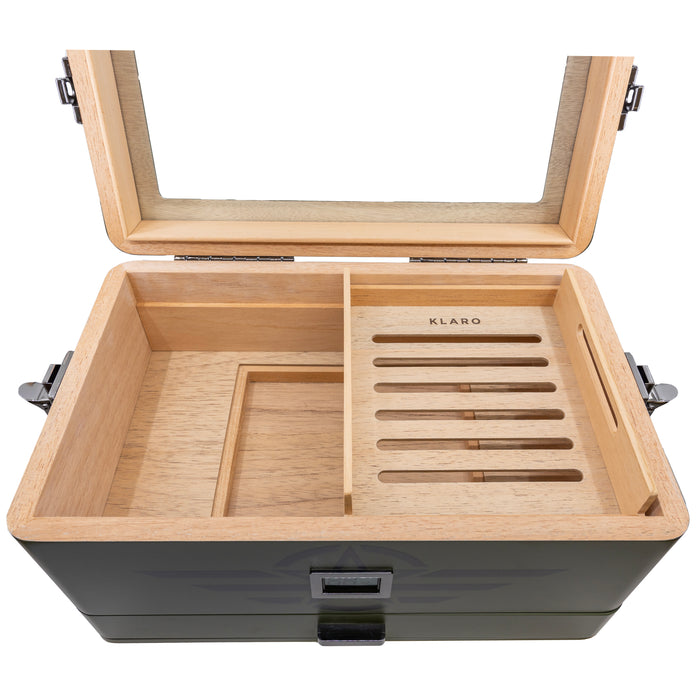 Warfighter Table Top 70-100 Count Humidor OD Green
Original price
$299.99
-
Original price
$699.99
The Warfighter Table Top 70-100 Count Humidor
This humidor is great for any cigar smoker. With an easy to maintain humidification system, an extremely accurate hygrometer and real Spanish cedar your cigars will be ready for whenever you are. It has an organized drawer to store your lighters, cutters and other accessories (sold seperately).
You can purchase this humidor:
- Empty
- With a 9 pack toro sampler
- Loaded with every cigar in every size that Warfighter has to offer totaling 45 cigars.

COMPLETE HUMIDIFICATION SYSTEM
Warfighter / Klaro humidors will be the easiest humidor you've ever seasoned and maintained. Comes with everything you need including 2 bottles of humidor solution, a pack of gel crystals and the hydro tray. Of course we give you detailed written and video instructions, backed by amazing support so we'll be with you every step of the way.
ACCURATE HYGROMETER
Our digital hygrometers are silicone gasket sealed from back to front, and include the most accurate European sensor on the market. You'll never have to wonder whether your cigars are taken care of.
MORE CEDAR
Warfighter / Klaro humidors have more Spanish cedar than any other brand on the market. Spanish cedar keeps away cigar beetles and makes sure your cigars are always the right humidity.
TIGHT SEAL
Our seals have been re-engineered to ensure an incredibly air-tight fit. We have custom rear hinges that lock in the seal. We also have super fat cedar coamings that will expand as your humidity increases to really ensure your smokes stay fresh for the long haul.