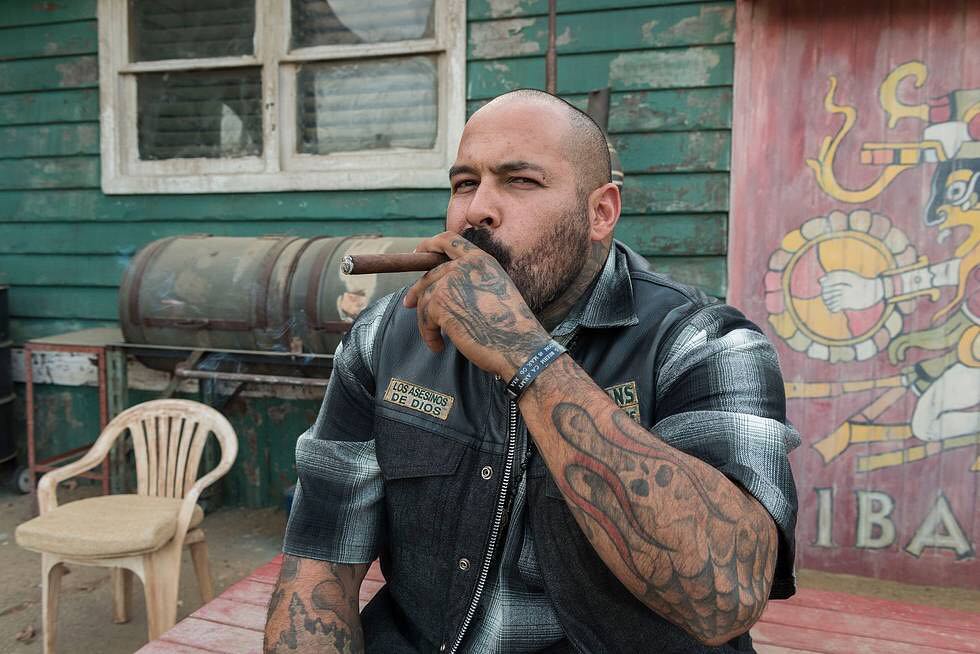 Vincent "Rocco" Vargas as Gilly on Mayans MC on FX
What's up Warfighters? It is September and time for another update.  This month we wanted to continue our celebration.  Last month we focused on our Anniversary, and this month we want to celebrate our partner Vincent "Rocco" Vargas.  In case you missed it, he had a wicked introduction in the first episode of Mayans MC, the Sons of Anarchyspinoff that just premiered on FX Network.  Rocco plays Gilberto "Gilly" Lopez, a full patched member of the Mayans MC, and the only thing we really know at this point is that his character is a former MMA fighter (foreshadowing, we can only assume, some serious future head-bashing scenes).   Naturally, we are f'ing proud of him and what he has accomplished.
In our moment of pride, however, Rocco was quick to knock us back down and remind us what this is really about.  "My goal has never been to be famous for myself.  I want to become famous to inspire the Veteran community as to what is possible after they transition out of the Military."   Thank you, Brother, for slapping us upside our heads and reminding us that this isn't about us.   It is about our awesome community and what we can do to make each other better. 
Okay, with reality firmly planted in back into our grey matter, Rocco's individual success is still worthy of discussion.  First, it is interesting how a former Army Ranger, Drill Sergeant, Border Patrol Agent and serial entrepreneur ends up starring in one of TV's most anticipated shows. As Warfighters know, it wasn't pure luck.  We all take whatever luck we can get, but something like this also takes a lot of hard work.   The type of hard work that Warfighters are no stranger to.  "I've always been good at the physical stuff."  That's how Rocco describes baseball, being a Ranger, or any of the "break glass in case of emergency" stuff that came more naturally to him.  Instead, the real challenge in acting has been the mental part. 
Don't get us wrong, Rocco admits that being a Warfighter certainly requires mental toughness.  "But this is a different beast."  Acting is an intense re-invention of yourself that is very different from the "pure will" it takes to push yourself physically. Hearing him describe it makes me tired, but it is very cool.  Also cool is the knowledge that being a Warfighter has helped him prepare for this. The knowledge of knowing we have been through stuff that not everyone can endure gives you the strength to face the unknown with a level of confidence not everyone can muster. 
In this regard, we asked Rocco if it was intimidating being the FNG again.  "Not really.  I was the FNG a lot in my life."  He's right. We all had to be the new guy in everything we ever did.  Come to think of it, Warfighter was the FNG two short years ago and that didn't intimidate us.  The truth is, we never stop learning.  As far as acting, Rocco says it has really played out the ideal way.  "I'm the new guy, but I'm learning on set from some of the best actors in the game."  He's grateful that he gets to be trained and learn his new(ish) craft from real professionals.  It is certainly better than learning the hard way--what not to do from those who have mastered idiocy!
It isn't really fair to call Rocco the "new guy" in the acting world.  He does have two major motion picture credits to his name.  His first role was in Ross Patterson's Helen Keller and the Night Wolves which was the precursor to his major role in the instant cult classic Range 15.  If you haven't seen either, they are laugh-out-loud worthy [In fairness, our own Scott Jansen was also in Range 15 and is the only zombie I know to have died more than once].  Nonetheless, Rocco says movies and television are really different.  Although the pace is slower in television, for Rocco it is tougher because you really have to focus on the development of your character.  "It is more intense from a story telling perspective."  In the movies you tell the whole story in 90 minutes or so.  On television you are striving to develop your character over multiple seasons. "Think of the character like an onion. In movies you chop it in half but in television you have to peel it back slowly, layer by layer." 
So, there you have it. A little inside perspective of what it is like to be the FNG cast in a major television series.  It is cool.  More importantly, it is a reminder that Warfighting hasn't defined us—it is just the beginning of what we are capable of.  Stay dangerous and be safe Brothers and Sisters! 
Check out our new coffee mugs and French Press tumblers to go along with that Warfighter Joe.
Keep on the lookout for lots of cool new cigar products and swag as we ramp up for the Holiday Season.